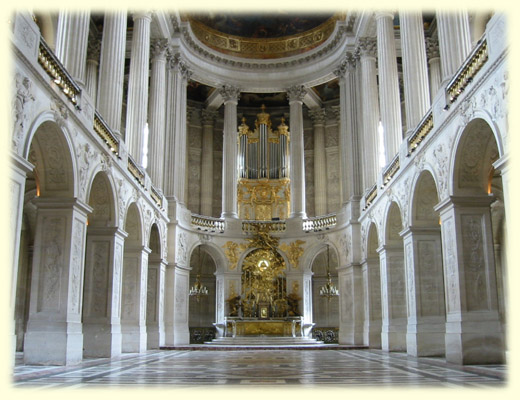 Chapel at the Palace of Versailles, Versailles, France. August, 2004.
Welcome to my photography section of my web page! I've been interested in photography since about as far back as I can remember. I took a photography class when I was about 10 years old. I used my father's 1960s vintage SLR, learned some basics and shot a roll of black and white film. We developed the film ourselves, and made 8x10 prints in the darkroom. I still have those prints! I know I didn't fully grasp the whole point of aperture and all that sort of thing, but the fun of developing film and making prints stayed with me.
But it was always intimidating. 35mm SLR cameras were horribly expensive and complicated looking. Not to mention the expense of buying and developing film, without any clear idea if I could be any good at it. I took snapshots with various 35mm point'n'shoot cameras and really didn't think too much about it.
Then in 2001, I bought my first digital camera, a 2 megapixel point'n'shoot Canon PowerShot S110. Like many people, without the cost of film and developing, I took way more pictures and became way more experimental. In time, my father bought me a Canon A700, a point'n'shoot that also has some fully manual controls. This, plus a free Pentax K1000 film SLR, re-ignited all that interest I'd had in photography all along.
Now, I spend an inordinate amount of my free time messing around with photography. We have a Canon Rebel XTi digital SLR, which is fun to experiment with. Plus, those old film cameras, once so prohibitively expensive, are now pretty cheap to pick up and experiment with. I'm even trying my hand at developing black and white film again!
I'm nearly done reading through Ansel Adams's three-book series on photography: The Camera, The Negative and The Print. It's an interesting series, particularly The Negative, and its discussion of the Zone System. In this world full of books "for dummies", it's really refreshing to read a book that never talks down to you, yet makes technical details perfectly plain.
The photos on this page (below) were last updated on December 1, 2005. You should look for my most recent photos on my Flickr Photo Stream. Also, for the latest in my photographic journey, make sure you look at photography-related blog posts at Angie and my blog, Squirrels Go Like This.
---
Travel, Architecture and Places

Lehigh Campus '99

NEPA '03

Sudbury Aqueduct '03

Colorado '03

"Manly Man" weekend '03

France '04

Independence Day Weekend '05

Bethlehem '05

Musikfest (etc) '05

Minneapolis and Yussen Wedding '05

Mount Carmel '05: Roots
---
Other...
| | | |
| --- | --- | --- |
| My Mazda 6s | Owen and Scotty '04 | Jaguar Concours 05 |
10/15/2008 © 2005, 2008 Thad Jaszek